About The Top Twenty
Created on 8 March 2018
The Top Twenty began as a Community Radio initiative at the Albury Wodonga Community Radio Cooperative in 2018. Then show producer, Max Bruckmann, envisioned creating a popular youth-oriented music chart to showcase emerging local talent on the airwaves across regional Australia.
In 2019, by the guidance of Joshua Groch, the program found a home in the neighbouring town of Holbrook under Greater Hume Radio's banner (2GHR).
At the time, "The Atomic Countdown", as it was called, won 'Best Produced Music Program' at the 2019 SCMA Radio Conference. Max and Josh collected the Award at the ceremony and the event was published in the local newspaper.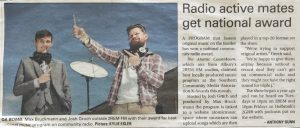 Later that same year Joel Sulman and Tyson Marcus joined the Atomic team and the program expanded rapidly to new Radio stations up and down the East Coast of Australia.
Today 'The Atomic Top Twenty' features some of the most popular independent musicians to come out of regional and metropolitan Australia. The radio program is Atomics' flagship initiative to host the twenty most trending songs from the Atomic music streaming platform.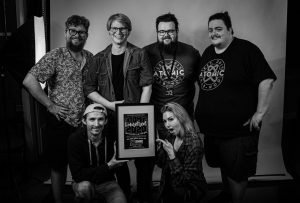 Atomic team picture taken in the Summer of 2020 – left to right, back row: Joshua Groch, Toby Mobbs (Atomic Hundred winner), Joel Sulman, Tyson Marcus. Front row: Max Bruckmann, Melanie Naismith.
Today the charts are hosted by Mel Naismith and syndicated all across Australia. Via a network of FM radio partners, the weekly episodes boast a potential capture audience of some several million Australian listeners.
The program continues to serve as an avenue to the public sphere for Australian musicians. Over the past four years the show has helped to launch dozens of independent artists into the wider Australian music industry and listener space.
This Weeks Top Twenty Songs: