Five Skyhooks Songs That I Enjoy
Written by Ryan Stevenson on 10 February 2021
I love Skyhooks, long time readers probably figured that out when I wrote about a two CD compilation album early in the going here on Atomic.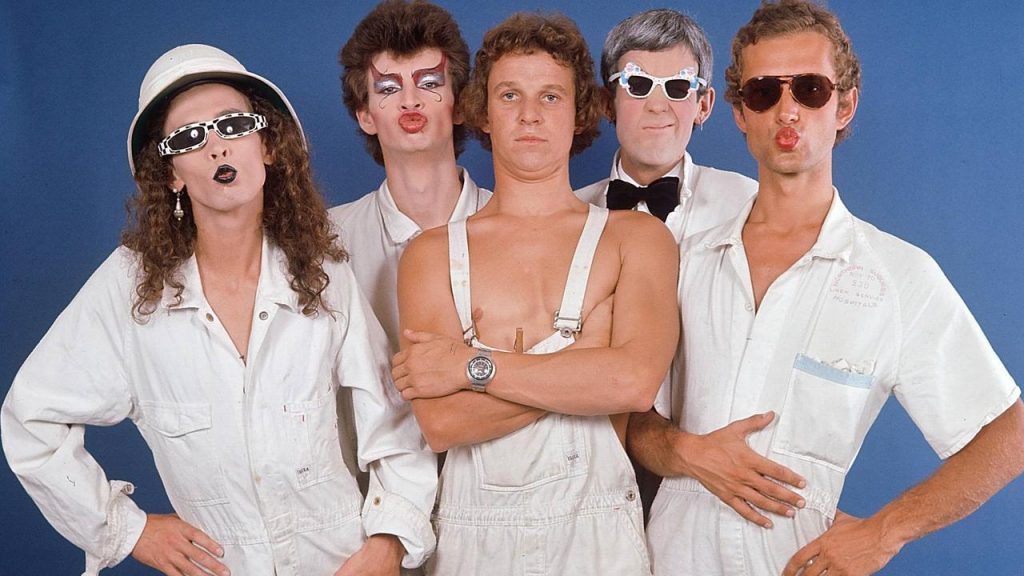 So here I am a few minutes before midnight on Atomic and I am going to pick five Skyhooks songs that I really enjoy listening to and it sure isn't easy to pick just five because I like so many of them and some massive hits have been left out because there is no room for them and I wanted to go for variety.
BBBBBBBBBBBBBoogie

What is not to like about the song, there is great guitar playing from Greg Macainsh, Bob Spencer and Bob Starkie and it has a couple of really great lines for example the following.
Take me to the place where
They got a good band
I gotta hear the boogie today
I need boogie, I need boogie
Bbbbbbbbbbbbboogie
The song was written by Imants "Freddie" Strauks, the drummer of the band and the only guy apart from Greg Macainsh to write a song featured on the album "Guilty Until Proven Insane".
Sadly they did not choose this song as a single as they thought "Megalomania" was a better choice, "BBBB Boogie" would of made an excellent single as it makes you get into the song while "Meglomania" is political and slower, not a sure fire hit even if the way Shirl Strachan sings the word is catchy.
If this song doesn't make you want to boogie then I don't know what would because this song was made to make people move.

"Over the Border"
People really didn't like Joh Bjelke-Petersen when he was Premier of Queensland and Skyhooks really captured the feelings of those in Queensland who wanted to be anywhere else but living in a place ruled by Joh.
"It's a nice place to visit but I wouldn't want to stay" is something you don't hear about Queensland too often these days though there was a brief time of time when Annastacia Palaszczuk made restrictions that many felt were financially damaging the state during COVID-19 and they made their feelings clear.
The song is truly Australian as they mention places like Coolangatta, New South Wales, and Boggo (Road) Jail and food like Mango and the song has that late Skyhooks era guitar sound that makes it go.
It's a catchy song especially when the phrase "Get over the Border" and "Over the Border" is repeatedly used and you learn that Mango rhymes with "Hang Joh".
I got to admit that when listening to the song I do want to "go over the border, down to New South Wales".
"Keep the Junk in America"
The album "Hot for the Orient" did not do so well and so the band called it quits in 1980 but not before releasing "Keep the Junk in America".
This song has multiple meanings, it talks about Skylab that crashed in Western Australia but it is also talking about Heroin not a young man grabbing a piece of debris.
I see pain in a young man's eyes
As he reaches for a fix
I see him shake when he's hangin' out
That's not what I call kicks
It also sings about the good and the bad about America, their culture, the military, the wish for them to just leave the bad stuff in their country and don't bring it along to Australia.
The "Keep the Junk in America" part of the song is catchy, it goes "Keep the Junk oooohhhh in America"
This song and "Keep the Junk in America" was the bands last two songs during their 1974-80 run of hits to be hard hitting and it is what makes the song memorable on an album considered disappointing.
"All My Friends Are Getting Married"
This one is perhaps one of the most recognisable Skyhooks songs, it has that sing-along quality to it
It may be something that you sing every time a friend announces that they are getting married, perhaps you sing it in amusement if you're the single one out of your close circle of friends.
Maybe it is a good song because it can make people lament their past choices or choices that were never made.
Good sound, Good lyrics, that's what makes a song special, what makes it iconic.
"You Just Like Me Cos I'm Good In Bed"
The live version of this song from the 1980's is fantastic, Red Symons shows he is a great guitarist and then he combines with Bob Starkie and of course there is Greg Macainsh on Bass and it is fantastic.
A lot of times, a live version cannot top a recorded version maybe because the original is too complex with layered tracks etc but this version of "You Just Like Me Cos I'm Good In Bed" in my opinion is better than the studio version.

This song is controversial but Skyhooks songs particularly between 1974 to 1976 usually were that and parents would of been shocked to hear lyrics like "fifteen times a week and you still want more?"

Aside from "Smut", maybe this is Skyhooks dirtiest song considering all the talk about sex from the lyric mentioned above to mentioning head and more.
Conclusion
So that's my five choices, songs like "Horror Movie", "Smut', "Living in the 70's", "Why Dontcha All Get F**ked", "Kooyong Dollar", "Women in Uniform" and "Million Dollar Riff" could have easily made it in but that's the challenge of making a top five list.

Maybe I'll visit all the songs later on during my journey on Atomic, we have got a long way to go and we're a good team together on this musical journey that we go on.
---