Atomic Music Rocks Adelaide: A Celebration of South Australian Sound
Are you ready to rock, Adelaide?
Get ready to feel the pulse of the music scene like never before, as Atomic Music takes its electrifying journey into the heart of South Australia. We're thrilled to announce two unmissable shows that will set the city on fire, showcasing the best of Adelaide's musical talent and marking a momentous step for Atomic Music's nationwide expansion.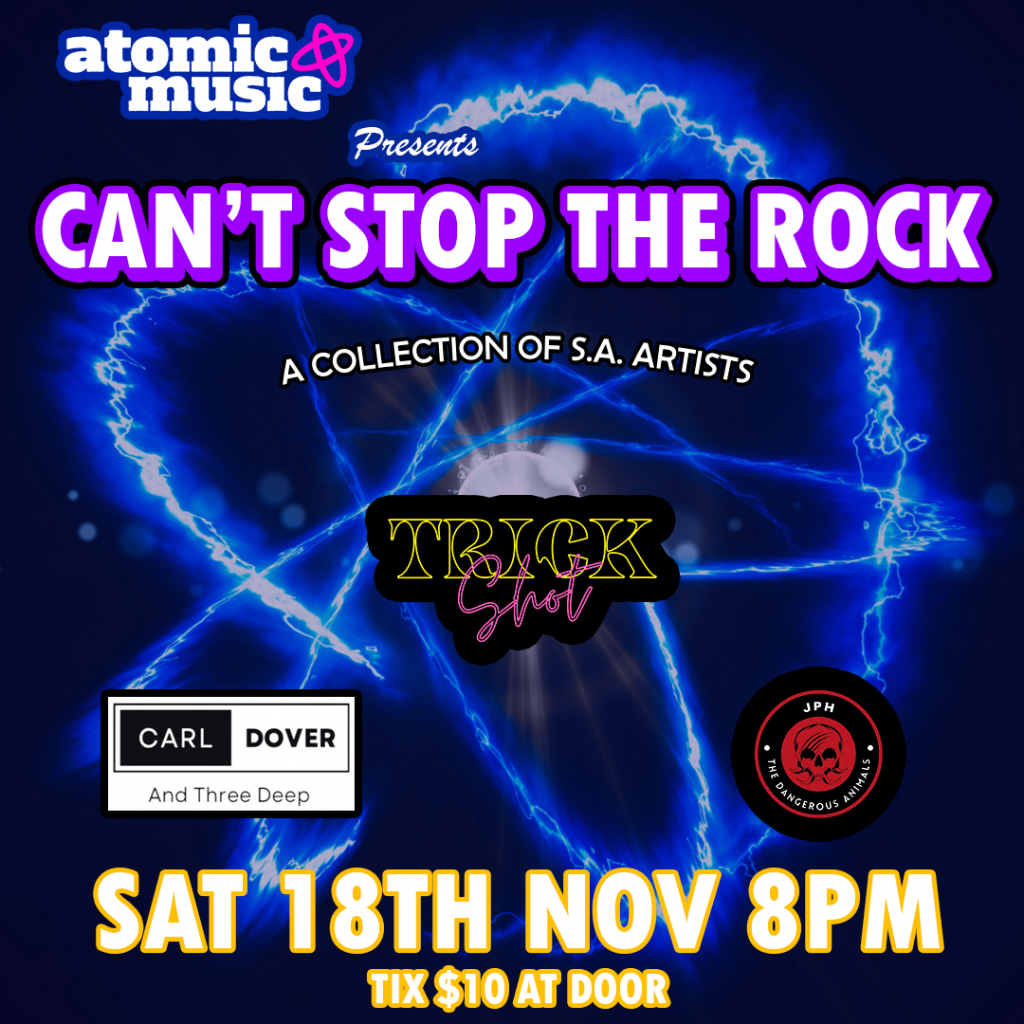 Show 1: "Can't Stop The Rock" – Brewboys Brewery – November 18th, 8.00 PM
On November 18th, Brewboys Brewery becomes the epicenter of rock 'n' roll as we present "Can't Stop The Rock." This electrifying event features a lineup that will have you on your feet all night long. You won't want to miss the unforgettable performances from three phenomenal rock bands:
Trick Shot: This band stormed onto the Atomic Music scene earlier this year, making waves with their single "Nothing I'd Rather Do," which peaked at number 8 on the charts. Now, they're back with a brand-new album, "Magic Bullet," and they're ready to blow you away.
Carl Dover And Three Deep: Carl Dover is on a hot streak, charting for six consecutive weeks and peaking at number 11 with "Pretty Lonely Girl." His mesmerizing tunes are sure to leave you spellbound.
JPH from the Dangerous Animals: With a guitar-driven, blues-based sound, JPH from the Dangerous Animals is set to play songs from their third album, "Angst and Melodrama." Get ready for a night of soulful melodies and powerful performances.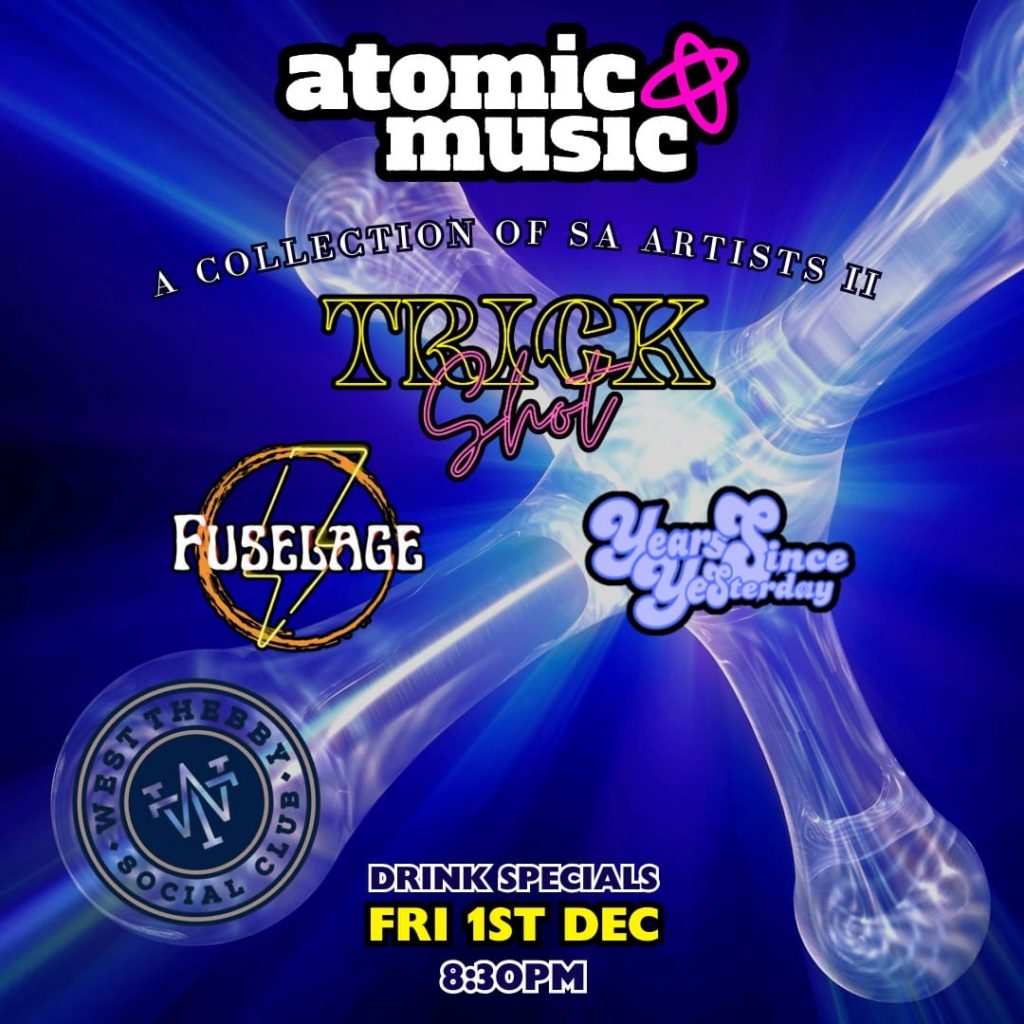 Show 2: "Get the Party Started" – West Thebby Social Club – December 1st, 8.30 PM
On December 1st, the West Thebby Social Club will be the place to be when we present "Get the Party Started." This show promises to keep the party going until the wee hours with an incredible lineup:
Trick Shot: The rock sensation is back for another round of high-energy music that will have you begging for more. Trick Shot knows how to keep the party alive.
Fuselage: Their hit singles "Black Sun" and "Alibi" have climbed the charts, with "Alibi" peaking at an incredible number 2. Prepare for a sensational performance that will leave you breathless.
Dressed To Kill: With their powerful and captivating sound, Dressed To Kill will have you dancing the night away. Their electrifying stage presence is not to be missed.
This monumental entry into the Adelaide music scene is part of Atomic Music's commitment to showcasing the incredible talent that South Australia has to offer. The State of South Australia officially joined the Atomic Australian broadcasting network in 2023, and artists from Adelaide began appearing on the national Atomic music charts this year. We believe it's time for the world to experience the incredible music culture of South Australia, and these shows are the first step.
Trick Shot, Carl Dover, JPH and the Dangerous Animals, Fuselage, and Dressed To Kill represent the best of South Australia's musical talent. With their chart-topping hits and incredible stage presence, they are ready to show the nation what Adelaide is made of.
As we bring the Atomic experience to Adelaide, we invite music lovers from all over to join us and become part of this historic moment. Let's celebrate the rich musical culture of South Australia and the opening of its music scene to the rest of Australia's eastern states via the Atomic national radio network.
Don't miss out on these two unforgettable nights of music, fun, and excitement. Tickets are on sale now, and they're going fast. Atomic Music is about to make history in Adelaide, and you can be a part of it. Get ready to rock, get ready to party, and get ready to be part of something incredible. Adelaide, the stage is yours!
Check out "No One Wins" – Trick Shot's latest single release of their new "Magic Bullet" album!
---