No 'New Year, New Me' for Nicolas Cage Fighter!
NICOLAS CAGE FIGHTER, Australia's best-named heavy band, have not begun 2021 with any of that 'New Year, New Me' rubbish, they have simply got down to business doing what they do best – release heavy as hell music!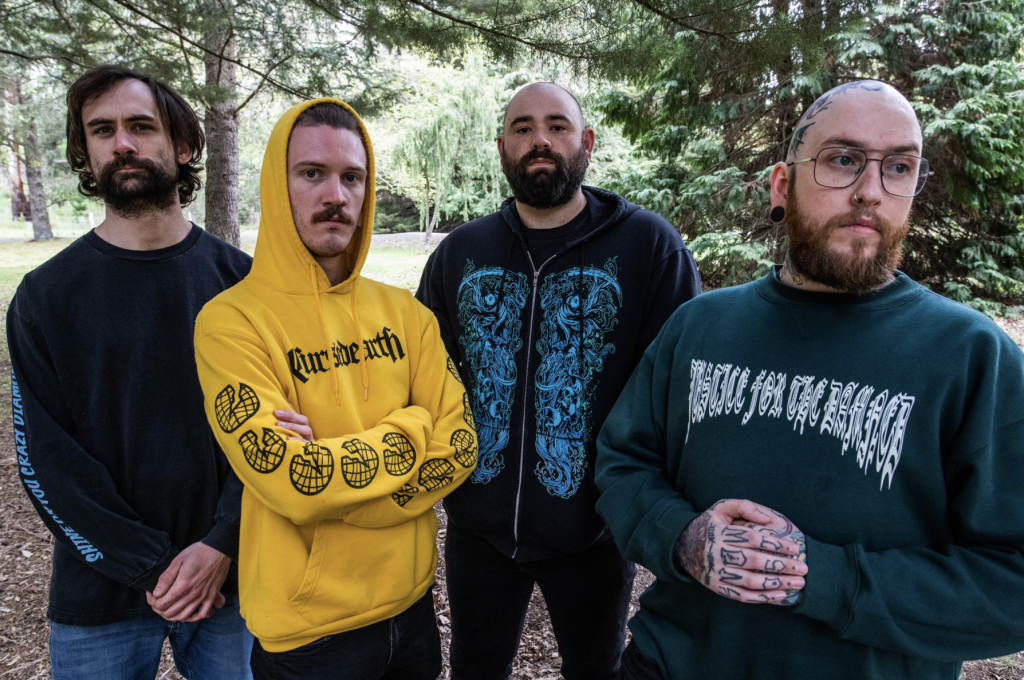 They have announced that their EP 'Cast You Out' will be released on Friday February 5th 2021. The 5-track, breakneck speed EP will be available for pre-order at their Bandcamp – https://nicolascagefighter.bandcamp.com.
Nick Moriarty, vocalist for the band, spoke about the process of creating this EP. "When beginning the writing for the lyrics of this EP, I knew that I had a clear narrative I wanted to express. As a band we simply wanted to deliver a story which detailed living with mental health issues. From the start I have aimed to do this in such a way that it was clearly a story of my own, yet expressed in such a manner that anyone living with mental health problems or challenging life experiences of their own could clearly relate to."
"Secondary to this, it was very important to me that whilst the EP as a whole represented a clearly flowing story of living with and contesting the impact of anger issues, anxiety and depression, I wanted each song to stand out on their own thematically, with their own unique stories and progressions of sorts."'Black Jackal', 'Devil's Head' and 'Dead Ends' have been released already from the EP – and all of these tracks have been featured on Spotify's Homegrown & Heavy, New Blood, Heavy Beatdown and New Metal Tracks playlists, and Apple Music's Heaps Heavy and Fresh Blood playlists!
Moriarty says that the creation process began with Black Jackal. "Black Jackal is the introduction to my own story of living with a sense of inadequacy, portrayed as though these problems physically manifest within my day to day life. "Poised to strike, I feel his presence, out for blood and this bastard has caught my scent." The critical element to this track for me was that by delivering this message via a visual explanation, not only would that open the EP up to individual interpretation, but it would also allow me to paint a picture of physically standing up for myself in the face of an insurmountable opponent, establishing myself and the audience as the ones in control of our lives, irrespective of the challenges ahead of us, and set the tone of the EP as a whole."  
The Cast You Out EP tracks were recorded by Kye Blomeley at K.B Audio and mixed and mastered by Roman Koester (The Red Shore, Deez Nuts, 50 Lions, Carpathian). The EP artwork was created by purifiedbysatan.
Over the years, Nicolas Cage Fighter have shared the stage with bands such as ATTILA (USA), THY ART IS MURDER (AUS), THICK AS BLOOD (USA), IWRESTLEDABEARONCE (USA), I DECLARE WAR (USA), DEEZ NUTS (AUS), IN HEARTS WAKE (AUS), AVERSIONS CROWN (AUS), SAVIOUR (AUS) and HELLIONS (AUS).
Nicolas Cage Fighter's 'Cast You Out' EP will be released on Friday February 5th 2021 and is available for pre-order at their Bandcamp – https://nicolascagefighter.bandcamp.com.
---